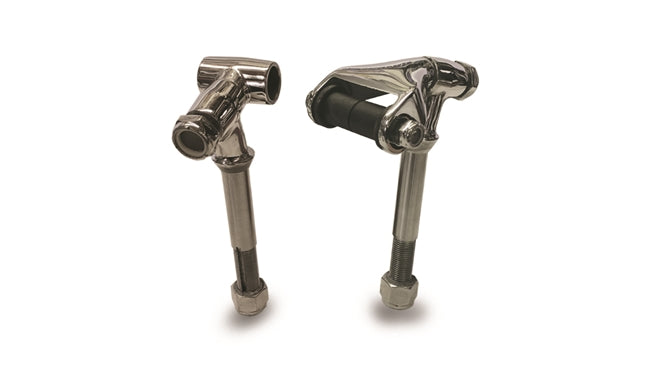 1928-1934 Ford Adjustable Dead Perch Set Stainless
Original price
$209.99
-
Original price
$249.99
Adjustable head for increased caster adjustment. Included dead head eliminates side to side spring movement shackles face. Body with keyway for lower shock mounts. Available Polished. For use with 1 3/4" wide spring. Thread size: 5/8"-18. For bushing diameter: 3/4". 
Notes

American Hot Rod Parts' stainless steel perches are heat treated 17 - 4 stainless and designed extra long with a 0.125" wide keyway to eliminate lower shock mount rotation other brands face. The dead head perch kit offers the caster adjustment of adjustable perches and further acts as a great alternative to a front panhard bar by eliminating side to side spring movement, Also known as death wobble. After setting final caster adjustment, all adjustable style perches can be welded at rotation point to eliminate front end rotation under high braking loads.

Specifications

For Use With 1 3/4" Wide Springs

Thread Size: 5/8"-18
For Bushing diameter: 3/4"
Keyway Width: 0.125"
Perch 'Bolt' Diameter: 0.680"
Shipping

Heavy or bulky items will need to be picked up or shipped freight. Freight costs will be calculated at time of shipment.