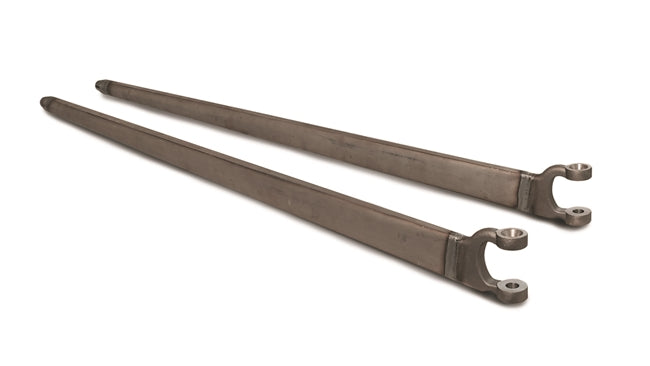 1932 Ford Style Split Wishbones 2 1/4" Perch Boss
Original price
$349.99
-
Original price
$349.99
Pre-split wishbones designed after the desired 1932 Ford. Engineered to work with the common, aftermarket 2 1/4" perch boss axles. Available in either 11/16-18 or 3/4-16 thread to suit your application. Plain steel. Electric welded tubes with TIG welded ends. Center of perch pin to end of bung: 43". SOLD IN PAIRS
Notes

Wishbones do not offer the same adjustability as four bar kits and hairpin kits. Ensure the front axle is in place and set to the correct angle before welding in or installing wishbones, as the angle can not be adjusted after installation.

Specifications

Designed For Use With 1928 - 1934 Ford
May Fit Other Applications

For Perch Boss: 2 1/4"
Center of Perch Pin to End of Bung: 43"

Carefully designed after original 1932 Ford wishbones which are longer and skinnier than later model alternatives. Made to suit new, 2 1/4" perch boss axles, and available with either 11/16" or 3/4" threaded bungs. Tubes are electric welded with the tops ground smooth and TIG welded both ends done in The USA. A truly excellent reproduction.


WHAT'S INCLUDED:

2 (TWO)
Plain Steel Wishbones for 2 1/4" Perch Boss
Shipping

Heavy or bulky items will need to be picked up or shipped freight. Freight costs will be calculated at time of shipment.