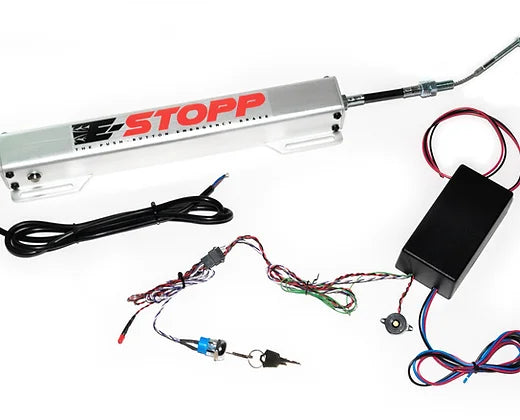 E-Stopp Key Lock Kit
Original price
$599.99
-
Original price
$599.99
The E-Stopp Brake
E-Stopp® is a push-button electric emergency brake that not only frees up room on the chassis and in the cab; it also doubles as an anti-theft device when the button is hidden. It works with any kind of brake system that can accept an e-brake cable and can mount anywhere on the chassis that you have room.
The E-Stopp® brake set-up is an effective, easy & safe method to clean up your interior and simplify the parking brake installation on your custom hot-rod project.
Notes

Standard Kit with actuator and push-button Key Lock Kit with actuator and key switch controller

Specifications

Tech Specs

Actuator:
21" Length Overall (including cable)
15" not including cable
2" Width (allow for approx. 3 1/4" of space when mounting")
1.8" Height
11" Brake Cable
Cable Threads 6mm x 1 pitch and 10mm x 1.5 pitch
​
Control Box:​
4.9" Length
2.5" Width
1.9" Height

Button:​ ​
22mm Billet Button w/ Red LED
Shipping

Heavy or bulky items will need to be picked up or shipped freight. Freight costs will be calculated at time of shipment.