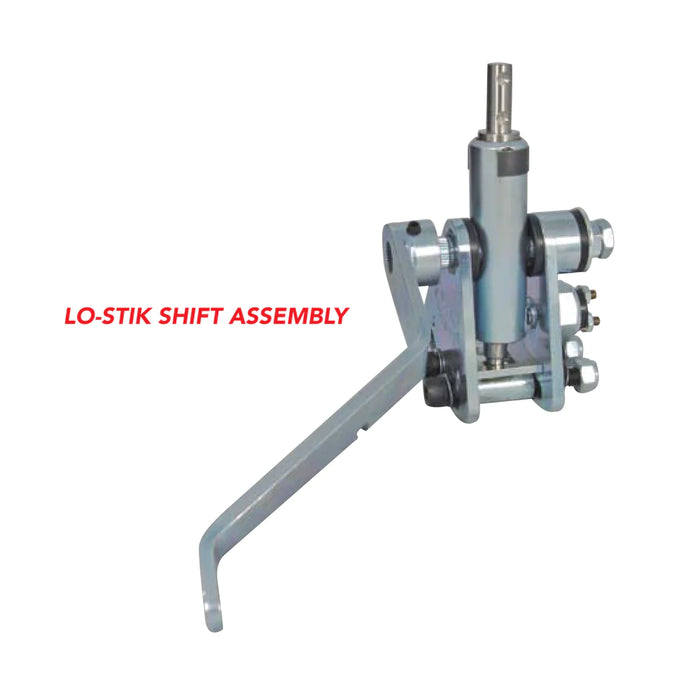 Lo-Stick Shifter Assembly (STEP 1)
Original price
$214.95
-
Original price
$214.95
The LO-STICK Shift Assembly is the brains of the Gennie Shifter hot rod shifter. This unique design requires a pull to the left to shift vs. a button being pushed.  This allows for a SOLID stainless or aluminum stick and nearly any knob, and smooth error free shifting.
This is the first building block that will combine with the length, shape, and style of your preferred Shift Stick plus the Mounting Kit for your transmission. Cap of the combo with your favorite shift knob and a great GENNIE SHIFTER boot.  Choose either GM or FORD/Mopar.  The unique side detent design is smooth, and eliminates shifting mistakes, and NO BUTTON!
Lo-Stick™
The Gennie Shifter Lo-Stick™ shifter system is all about versatility. The center of the operation, the Lo-Stick Shift Assembly™ mounts to various automatic transmissions via specified bracket kits. Bracket kits are available for two mounting locations; mid mount, which saddles the transmission and is ideal for short floor pans, and the rear mount, which mounts off the transmission tail housing and works great for longer floor pans. All bracket kits come with the necessary linkage parts to mate the Lo-Stick Shifter Assembly to the transmissions gear selector. Installation and adjustments are simple.
Next comes the stick, which attaches firmly with ease to the Lo-Stick Shifter Assembly. All of Gennie Shifters' sticks will work seamlessly so the choice is yours. If you wish to make your own stick, that can be done, but Gennie Shifter does not recommend any stick over 24". It is so easy to swap out sticks that many customers have opted for multiple sticks so they can switch things up once in a while. 
Top it all off with a shift knob. Gennie Shifter offers a wide variety of shift knobs. Again, many customers have opted for more than just one knob. Usually one engraved with the shift pattern and then one a little crazier.
Features
Hardened Posiloc shift gate.
Neutral Safety Switch.
Delrin Bushings.
Anodized Brackets.
Highly polished stainless steel and aluminum sticks.
Installation Instructions.
Precision machined fit.
USA Made.
Shipping

Heavy or bulky items will need to be picked up or shipped freight. Freight costs will be calculated at time of shipment.